Heel of Italy - a Luxury Food and Wine Cycling Tour
Italy Bike Tours
Slow travel as you bike through Puglia, including Lecce, Leuca, and other Apulian destinations
You are in for a treat with this guided and supported bike tour in Salento, the "heel" of Italy, known for its ancient farmlands crisscrossed with stonewalls, small authentic villages, and hundreds of kilometers of coastline.

This is Apulia, the crossroads of civilizations and culture, the bridge between East and West, and a haven for those who love the sea. Tucked between the sparkling, azure waters of the Ionian and the Adriatic, this "sub peninsula" showcases a varied coastline etched with glittering limestone precipices, outcroppings, and miles of first class beaches, carved inland with lovely salt-water lagoons.

The fine harbors and fertile plains made this region particularly vulnerable to attack and many conquering invaders penetrated its barriers. Today, Puglia maintains its own distinct and authentic identity, an eclectic mix of cultures.

In a land where the cuisine is all-important, Puglia's cucina povera (peasant cooking) is legendary, featuring olive oil, grapes, tomatoes, eggplants, artichokes, peppers, cheese, mushrooms, olives, and fresh seafood...and the wine is world renowned.

Highlights:

The seafront jewels of Gallipoli and Otranto
Baroque and sophisticated Lecce
Luxurious Leuca
Apulian landscape and seascape
Simple but diverse cuisine and world famous wines
Local wine and product tastings
True immersion in local arts, crafts, and family

We can also offer an optional pre-tour extension that includes Matera and Alberobello. See below for details.

Enjoy your 'slow travel' immersion in this sun kissed land!

Check out all our bike tours in Italy.

Guided 10 day tour:
*Twin/double: £ 1576 $ 3,381 € 1855 $ 2795 NOK 17468 kr 16124 $ 2,096 Single supplement: £ 229 $ 492 € 270 $ 407 NOK 2543 kr 2347 $ 305 (*price is based on minimum of 20 people)
Guided pre-tour extension:
*Twin/double: £ 637 $ 1,367 € 750 $ 1130 NOK 7063 kr 6519 $ 848 Single supplement: £ 76 $ 164 € 90 $ 136 NOK 848 kr 782 $ 102 (*price is based on minimum of 10 people)
Self-guided pre-tour extension:
Twin/double: £ 467 $ 1,002 € 550 $ 829 NOK 5179 kr 4781 $ 622 Single supplement: £ 76 $ 164 € 90 $ 136 NOK 848 kr 782 $ 102

extra

options

Guided 10 day tour:
Electric bike: £ 110 $ 237 € 130 $ 196 NOK 1224 kr 1130 $ 147 Road bike: £ 93 $ 200 € 110 $ 166 NOK 1036 kr 956 $ 124 Extra nights in Lecce:
Twin/double: £ 51 $ 109 € 60 $ 90 NOK 565 kr 522 $ 68 Single room: £ 76 $ 164 € 90 $ 136 NOK 848 kr 782 $ 102 Transfer from Brindisi Airport to Lecce: £ 21 $ 46 € 25 $ 38 NOK 235 kr 217 $ 28 Transfer from Bari Airport to Lecce: £ 47 $ 100 € 55 $ 83 NOK 518 kr 478 $ 62 Group transfer can be arranged. Please ask.
Pre-tour extension: 
Electric bike: £ 42 $ 91 € 50 $ 75 NOK 471 kr 435 $ 57 Road bike: £ 59 $ 128 € 70 $ 105 NOK 659 kr 608 $ 79 Extra nights in Matera:
Twin/double: £ 51 $ 109 € 60 $ 90 NOK 565 kr 522 $ 68 Single room: £ 76 $ 164 € 90 $ 136 NOK 848 kr 782 $ 102 Transfer from Bari Airport to Matera: £ 38 $ 82 € 45 $ 68 NOK 424 kr 391 $ 51  

 

please

note

Rates are per person based on double occupancy.

Information to read before you book.

We recommend purchasing bike trip insurance.

† Currency exchange rate set 90 days before travel.

Travel

One major airport close to your tour start is Brindisi - Salento Airport (BDS), 51 km from the center of Lecce. Another option is Bari Karol Wojtyła Airport (BRI) at 166 km distance. If you are booking the pre extension, you can arrive to Bari and depart from Brindisi, or arrive and depart from Bari.

Local Travel

Airport transfers can be booked! See pricing. If you prefer to arrive on your own, taxis are readily available at either airport. Brindisi Airport is well served by public bus lines. Just outside of Brindisi Airport's Terminal you will easily find the transportation stop. There is a bus operated by Pugliairbus that goes directly to Lecce and costs about €6. If you plan to arrive to Bari Airport and travel on your own to Lecce or to Matera, ask us. We will be sure to provide you detailed travel information.

Climate

The region of Puglia experiences a Mediterranean climate. Spring comes early here is with temps around 68 ° F (20 ° C) by the end of April. Summer arrives in May and lasts through to the end of September. July and August are the hottest months with temperatures reaching 86° F. October and November are lovely and temperatures in the 70s remain. Winter in Puglia is mild and therefore, still conducive for cycling. On average, the warmest month is July, the coolest month is January, and November is the wettest month. We advise to check local conditions before your arrival. A good website to use to research regional weather including average high/low temperatures, average rainfall is weatherbase.com.

DOCUMENTS

Before you travel, please check your country's passport and visa requirements and the passport and visa requirements of the country/countries you plan to visit. For US citizens, the US Department of State website is a good source of information. The Country Information tab in the International Travel section provides details about passport validity, blank passport pages required, etc. For our other international clients, please be sure that you research your own country's travel requirements. It is each traveller's responsibility to insure proper documentation.

---
Skill
Level
Salento, the southern part of Apulia) is a region that is almost entirely flat, making the ride a pleasant journey for any level of rider. You will be cycling between 20 and 40 miles a day, mainly traversing secondary roads, with breaks to enjoy the sea and scheduled guided visits as per the itinerary. This is a tour that focuses on "slow travel", a mindset that encourages you to soak in your environment and keep yourself open to new experiences.
Where
You'll Stay
You will be accommodated in three and four star hotels.
What's
Included
10 day guided tour
9 nights accommodation in 3 and 4 star hotels
9 breakfasts
7 picnic lunches including a cooking class where wine is included
9 dinners (one bottle of quality wine included for 4 people)
3 tastings with wine, cheese, and local products
Bike rental with accessories (hybrid bikes 21 gears)
Bike assistance and mechanic;
Luggage transfers with support vehicle (8 days support)
Biking guide (available 24 hours - English speaker)
Hotel taxes and service charges
Pre-tour extension
3 nights accommodation in villas, resorts or farmhouses, and 3 and 4 star hotels
3 breakfasts
3 dinners (water included/one bottle of quality wine for 4 people)
Bike rental with accessories (hybrid bikes 21 gears)
Bike assistance and mechanic (only in guided option)
Luggage transfer
2 days route support (only in guided option)
Transfer from Alberobello to Lecce
Hotel taxes and service charges
What's
Not Included
Arrival/departure airport transfers (see pricing)
Meals not mentioned as included
Museum entrance fees
Gratuities for guide and van driver (at your discretion)
Tour
Dates
Special group tour date: October 2 - October 11, 2019
Day-To-Day
Itinerary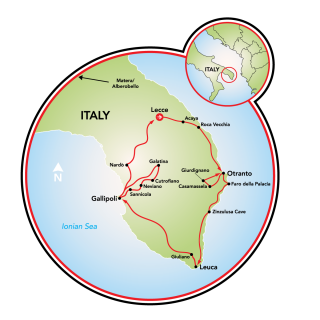 October 2: Day 1: Arrive in Lecce 
October 3: Day 2: Lecce - Otranto, 35 miles
October 4: Day 3: Around Otranto, 20 miles – Possible extension to 28 miles 
October 5: Day 4: Otranto - Leuca, 35 miles 
October 6: Day 5: Free day in Leuca, possibile bike tour,  38 miles / possibile boat excursion
October 7: Day 6: Leuca - Gallipoli, 40 miles
October 8: Day 7: Around Gallipoli (38 miles)
October 9: Day 8: Cooking class at local farm, 15 miles, possible extension, 25 miles
October 10: Day 9: Gallipoli - Lecce, 33 miles 
October 11: Day 10: Departure from Lecce 
All distances are approximate.
Day 1: Arrive in Lecce
Arrive at Bari/Brindisi airport with optional transfer to Lecce. Meeting in Lecce. Your bike will be delivered and fitted and you will have a brief introduction ot the tour followed by a welcome dinner.
Day 2: Lecce - Otranto, 35 mi.
The route is relatively flat today,with many interesting cultural sights. First on the agenda is Acaya, a fortified city with a huge castle. The route descends then to "Le Cesine", a World Wildlife Federation area and a crossing point for many species of migratory birds. For lunch you will enjoy sea food tasting in San Foca. From here, you head towards the coast, along the ruins of Roca Vecchia, an archaeological site located on the Adriatic coast from which excavations have uncovered some of the best-preserved monumental architecture of the Bronze Age (2nd millennium BC) and the  largest set of Mycenaean pottery ever recovered west of mainland Greece. As well, you cycle to Alimini Lakes with its stunning white sand beach. This area is also a stopping point for various migrating birds such as white storks, flamingos, creanes, greylag geese, swans, and many others. Final destination is Otranto, a once-thriving Roman port. Highlights include the small domed church, San Pietro, with its Byzantine frescoes, the 15th century Aragonese Castle, and the 11th century Otranto Romanesque cathedral. Here you find the quaint yet large scale mosaic work carried out by the monk, Pantaleone. Pictures within the mosaic include religious stories like Noah's ark, but also depictions of historical, mythical, and even pagan figures, including Alexander the Great and King Arthur. Alongside the cattedrale is a small museum, the Museo Diocesano, which contains a few local exhibits including fragments of an earlier fourth or fifth-century mosaic from the cathedral site.
Day 3: Otranto and surroundings,  20 mi.
Riding along the little River "Idro", the route leads to Casamassela, to "Le Costantine" foundation, an agriculture education center. This peaceful oasis is enclosed by olive tree groves and Mediterranean scrub. The weaving studio here creates textile products with ancient wooden looms.  After a guided tour, you continue to Giurdignano, a beautiful town with ancient origins where you will cross a Bronze Age megalithic park strewn with huge stones (domen and menhir.) Next on the agenda is  La Cutura botanical garden.The variety of plants, trees and herbs will astound you, including the agaves, cacti, roses, myrtle, and much, much more. Your lunch will consist of typical products prepared in a stone oven and local wine. You return to Otranto to enjoy some free time. Stroll the ramparts overlooking the sea, meander the old walled historic center, with its intricate web of alleyways and white washed homes, and simply enjoy! You could also swim in the ocean or go for a horseback ride along the cliffs at sunset.
Day 4: Otranto – Leuca coast, 35 mi. 
Today you cycle along the wildest Salento coastal stretch. You visit the Palacia lighthouse, located at the easternmost point in Italy and the narrowest point of Strait of Otranto at the mouth of Adriatic Sea. The lighthouse was built in 1867 and abandoned in the 1970s, however, was reopened in 2008. Your route continues following the coast, weaving amidst the cliffs above the sea, overlooking the Strait of Otranto. On a clear day, you can actually see the mountains of Albania and Greece. There is opportunity to visit the Zinzulusa cave, a dramatic seafront cave system with colorful rock formations and teeming with marine wildlife. As you continue to cycle to Leuca, the day's destination, you will pedal through a typical landscape littered with boulders, Mediterranean scrub, lavender bushes, and laced with the  high dry-stone walls and terraces typical of this area. As well, you can observe the ingenious devices of peasants to get arable land into barren and impervious areas. After crossing the bridge over the "ciolo", a canyon, carved by the waters, you reach Santa Maria di Leuca, where the Ionian and the Adriatic Sea meet. The name of the village comes from the Greek "leucos", meaning light or luminous. Once a sleepy fishing village, it showcases a fascinating seascape and incredible panoramas. It became the summer residence of many aristocratic Pugliesi who built splendid villas, decorating the seafront with their varying styles. 
Day 5: Leuca
Rest day. Optional bike ride/or boat excursion.
Day 6: Leuca - Gallipoli, 40 mi. 
Today you discover Leuca Cape, the southern part of Apulia. In the 16th century, Emperor Charles V ordered the construction of a system of watchtowers along the entire length of the Puglian coast to protect citizens from constant invasions. The towers were built in strategic positions along the coast, close enough that each tower could communicate with the towers on either side of it. You will make a stop at one of the defense towers situated in the center of a small village. Next is Patù and the megalithic monument called Centopietre (100 stones), created from massive blocks of stone taken from Vereto.  Next on the agenda is  Leuca piccola (Little Leuca), an important pilgrimage station. The premises were not limited to religious purposes, but there were also rooms for the rest and refreshment of people and animals. Through olive groves lined by stone walls the route continues to the day's final destination, Gallipoli, a beautiful seaside town, and a mixture of old and new. The center of the old town is perched on a island, and connected to the mainland,  and the new city,  by a twentieth century arched bridge.
Day 7: Gallipoli's surroundings, 38 mi.
Today is  dedicated to the surroundings of  Gallipoli. First stop is in Sannicola, set amidst miles of olive groves and vineyards, it is here that  Alezio, the region's wine is produced. This is also where much of Italy's olive oil production comes from. You will visit an underground oil mill, then Tuglie, a typical village of Salento, and then ride through Neviano, to visit the ruins of Macugno Abbey. Cutrofiano is next on the agenda, known as the ceramics center of Salento, a designation it has enjoyed since its founding when the Greeks used the area's rich clay deposits to make vases. Outside town is the interesting Parco dei Fossili, an open-air fossil park discovered in an old quarry where geological stratas and marine fossils were found. You will enjoy an organic lunch at "Piccapane" a little farm house, where Giuseppe will cook the vegetables you will have picked yourself! In the afternoon it is off  to Galatina where you can contemplate the church of Santa Caterina, totally painted with frescoes, in Giottesco style, and then visit the beautiful old town. Later, you stop in the winery "Santi Dimitri", to discover the secrets of oil and wine making…followed by a wine and cheese tasting, of course! 
Day 8: Local cooking class, 15 mi.
Your day starts in the morning from the village of Gallipoli. Cycling on secondary country roads, among olive trees and dry stone walls, you reach a family-run agritourism where your cooking class will take place. The products are harvested directly from the family garden. Among other things, you will learn how to prepare handmade orecchiette (a typical local pasta, shaped like an ear, prepared with fingers and a knife). There will be other dishes featured, and of course wine, and dessert.  Following this delightful family lunch, you may want to rest and relax. You are invited to stay and swim in the pool or sit in the garden. Remember, this is 'slow travel!'  Those who want to work off their meal, can enjoy some more cycling.
Day 9: Gallipoli - Lecce, 26 mi. (42 km)  
On this last cycling day,  you will pass by many 19th century fortified farmhouses and villas on your way back to Lecce. You stop in Nardò to visit its baroque style historical center and then Copertino to discover its impressive Norman castle and hear stories of Saint Joseph of Cupertino. A few kilometers before Lecce, you can make a stop at a local establishment, a traditional pottery workshop, owned by the Martina brothers, skillful keepers of this ancient art. Tonight, you will enjoy a long farewell dinner in one of the best restaurants in town.
Day 10: Departure from Lecce
Late afternoon arrival in Lecce.
Would you like to visit Matera and Alberobello?
OPTIONAL PRE-TOUR EXTENSION - MATERA and ALBEROBELLO
They say once you visit Matera, you will agree, it is one of the most unique and spectacular places in all of Europe, with a history dating back 30,000 years. This is a town that is literally carved out of the rock and which has now been designated as 'European Capital of Culture' for 2019.  The cave dwellings and houses tumble down the hillsides, connected by stone steps and narrow paths. The roof of one home may be the walkway of another. 
The small town of Alberobello has been made a UNESCO World Heritage site for its unusual districts of trulli, the characteristic white-washed conical-roofed houses of the area.
September 29: Day 1: Arrival in Matera
September 30: Day 2: Matera -  Alberobello, 44 mi. 

October 1: Day 3: Around Alberobello, 28 mi. 
October 2: Day 4: Transfer to Lecce to begin your 10 day guided tour.
Looking for more?  View all our featured bicycle tours, specials, and news or look at our full list of bike tours in Europe.
Email or Call 800-951-4384 +1 570-965-2064
---